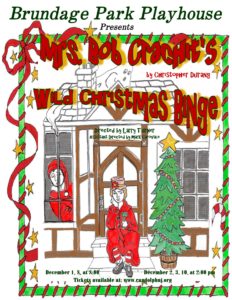 Brundage Park Playhouse is pleased to present


Mrs. Bob Cratchit's 

Wild Christmas Binge  
Directed by Larry Turner
Written by Christopher Durang
PERFORMANCE DATES:
December 1 and 8 at 8:00 pm
December 2, 3, 9 & 10 at 2:00 pm
About the play:
Suffice to say this is not your usual adaptation of the well-known story about Ebenezer Scrooge's Christmas transformation. No, this is a musical parody by Christopher Durang with a very different Mrs. Cratchit than the long-suffering goody-goody wife in the original story.  Throw in a Ghost who can't seem to get Scrooge to the right places in neither the past, present nor the future, and two or three other characters not in the original story, and you have a new definition of "Binge" watching.
CHARACTER LIST:
Ebenezer Scrooge: Mark J. Carovale (Wharton)
Mrs. Cratchit: Nola Young (Roxbury)
The Ghost of Christmas Past, Present and Future:  Keely Johnston (Lake Hopatcong)
Bob Cratchit: Jeffrey Meudt (Budd Lake)
Tiny Tim: Julio Ortiz (Lake Hopatcong)
Little Nell Cratchit/Mrs. Fezziwig/The Beadle's Wife: Kate Cullin (Randolph)
Cratchit Child 1/Zuzu Bailey: Abby Simon (Mendham)
Cratchit Child 2/Young Ebenezer: Tim Rocca
Kenneth Lay/Mr. Fezziwig/The Beadle: Christopher Simon (Mendham)
Jeffrey Skilling/Edgar/George Bailey: Christopher Lange (Succasunna)
Young Jacob Marley/Cratchit Child 3: Braden O'Brien (Hackettstown)
Bartender 1/Bartender 2: Tom Young (Roxbury)
Jacob Marley/Clarence the Angel/ Serena the Maid: Daniel Kupke  (Budd Lake)
Nice Mrs. Cratchit/ Hedvig/ Monica the Angel: Rachael Diamond (Hopatcong)
**************************************************************************
Ticket prices are $25 for Adults and $20 for Seniors, Children under 12, and Military Personnel. All seats are General Admission (no assigned seating).
You can now purchase your tickets online using Community Pass. Visit our website www.brundageparkplayhouse.org for more information or call (973) 989-7092 for ticketing questions.