Posted By admin on January 10, 2017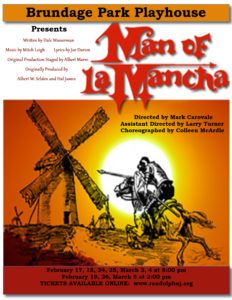 Man of La Mancha at Brundage Park Playhouse
PERFORMANCE DATES: February 17, 18, 24, 25, March 3, 4 at 8:00 pm, February 19, 26, March 5 at 2:00 PM
MAN OF LA MANCHA
Director:  Mark Carovale
Assistant Director: Larry Turner
Choreographer: Colleen McArdle
Written by Dale Wasserman Music by Mitch Leigh , Lyrics by Joe Darion, Original Production Staged by Albert Marre,  Originally Produced by Albert W. Selden and Hal James
Come "Dream the Impossible Dream" in this classic musical set in the sixteenth century during the Spanish Inquisition. While he awaits trial, Miguel de Cervantes captivates his fellow prisoners with the tale of the chivalrous knight errant, Don Quixote and his loyal manservant Pancho.
Cast
Sancho Panza: Alex Marchesani, Vernon
Miguel de Cervantes: Mark Carovale, Wharton
Governor/Innkeeper: John Cavaliere, Randolph
The Duke/Dr. Sanson Carrasco: Brian George, Stanhope
Aldonza: Kelly Miller, Dover
Maria, the Innkeepers wife: Keely Johnston, Hopatcong
Antonia: Alicia Vega, Randolph
Housekeeper: Nola Young, Wharton
Padre: Kenny Roggencamp, Dover
Captain of the Inquisition/Barber: Sid Hulse, Randolph
Fermina: Clare Capuzzi, Morris Plains
Ensemble:
Jennifer Little, Randolph
Julio Ortiz, Hopatcong
Jean Cavaliere, Randolph
Steven George, Stanhope
Christopher Simon, Mendham
Laura DeSantis, Morristown
Christina Paolucci
Ariel Juarez
Robert Tagliaferro
Crew:
Mark Carovale: Director/Costumer
Larry Turner: Assistant Director
Colleen McArdle: Choreographer
Jon Young: Fight Choreographer
Nola Young:  Set Construction/Design/Props
Danny Meudt: Lighting/Sound
Brundage Park Playhouse has moved to an online ticket purchasing system. Tickets can be purchased online at Randolph Community Pass.  
Ticket prices are $25 for adults and $20 for seniors, children under 12, and military personnel.  All seats are general admission and there is no assigned seating.   Each patron must have a ticket.  Children sitting on parents laps must have a ticket and no babes in arms.
For further information please contact Brundage Park Playhouse at (973) 989-7092