Posted By admin on November 18, 2016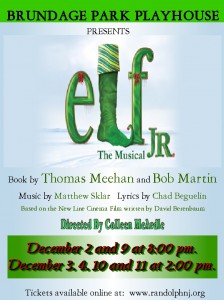 PLEASE NOTE – All Performances are sold out! 
Brundage Park Playhouse is pleased to announce its upcoming performances of
ELF The Musical, JR.
Performance Dates: December 2 and 9 at 8:00 pm, December 3, 4, 10 and 11 at 2:00 pm
Directed and Choreographed by Colleen McArdle
Assistant Choreographer – Shelly Goldstein
 
Book by Thomas Meehan and Bob Martin
Music by Matthew Sklar
Lyrics by Chad Beguelin 
Based on the New Line Cinema film written by David Berenbaum 
Presented through special arrangement with Music Theater International (MTI).   All authorized performance materials are also supplied by MTI.  
Buddy, a young orphan mistakenly crawls into Santa's bag of gifts and is transported to the North Pole. The would-be elf is raised unaware that he is actually a human, until his enormous size and poor toy-making abilities cause him to face the truth. With Santa's permission, Buddy embarks on a journey to New York City to find his birth father and discover his true identity. Faced with the harsh reality that his father is on the naughty list, and his stepbrother doesn't even believe in Santa, Buddy is determined to win over his new family and help New York remember the true meaning of Christmas. 
CAST:
Santa Claus: Mark Carovale, Wharton
Buddy: Kevin Ohlweiler, Verona
Elf #1: Lloyd Silikovitz, Randolph
Elf #2: Christopher Simon, Mendham
Elf #3: Jake Marsh, Chester
Elf #4:  Abby Simon, Mendham
Elf #5:  Elizabeth Foldy, Morris Plains
Charlie: Braden O'Brien, Hackettstown
Shawanda: Julia Cama, Morris Plains
Business Woman: Carly Ellermeyer, Randolph
Teenager: Zachary Sussman, Randolph
Sam: Nick Short, Randolph
Walter Hobbs: Brian George, Stanhope
Deb: Regina Silikovitz, Randolph
Emily Hobbs:  Nola Young, Wharton
Michael Hobbs: Steven George, Stanhope
Macy's Manager & Mr. Greenway: Adam Druga, Mt. Arlington
Jovie: Cari Sanchez, Stanhope
Santa's Helper: Arthav Naidu, Randolph
Fake Santa/ Security Guard: Rene Dussault, Randolph
Child: Genna Smith, Chester
Sara: Hannah Gebbia, Rockaway
Chadwick: Christopher Lange, Succasunna
Matthews: Michael Luciano, Randolph
Charlotte Dennon: Lauren Fabio
Darlene Lambert:  Sara Popkin, Denville
Emma Van Brocklin: Michaela Regan, Hackettstown
Ensemble:
Kate Cullin, Randolph
Lauren Fabio, Flanders
Samantha Mazzella, Chester
Ticket prices are $20 for adults, and $15 for Seniors, Children under 12, and military personnel.  All seats are General Admission (no assigned seating). 
You can now purchase your tickets online at Randolph Community Pass
For further information please contact Brundage Park Playhouse at (973) 989-7092