Brundage Park Playhouse is proud to continue our tradition of presenting affordable, quality entertainment to our patrons during our 2019 Season. We sincerely appreciate your patronage and welcome you to Brundage Park Playhouse for the following productions in 2019.
BRUNDAGE PARK PLAYHOUSE 2019 SEASON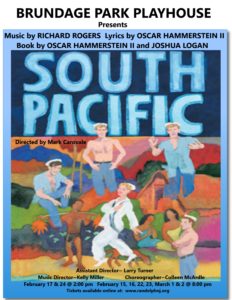 SOUTH PACIFIC
Music by Richard Rogers
Lyrics by Oscar Hammerstein II
Book by Oscar Hammerstein & Joshua Logan
Directed by Mark Carovale
Performance Dates: February 17 and 24 at 2:00 pm, February 15, 16, 22, 23, and March 1 and 2 at 8:00 pm
Set against the dramatic background of an idyllic South Pacific island during WWII, Rodgers and Hammerstein's South Pacific intertwines the themes of romance, duty, and prejudice to create a story that is all at once hilarious, heartbreaking, and thought-provoking.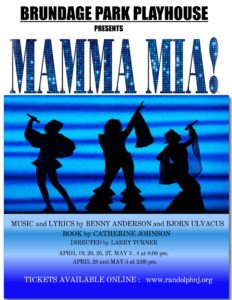 MAMMA MIA!
Music and Lyrics by Benny Andersson & Bjorn Ulvaeus
Book by Catherine Johnson
Directed by Larry Turner
Performance Date: April 19, 20, 26, 27, May 3 and May 4 at 8:00 pm and April 28 and May 5 at 2:00 pm
ABBA's hits tell the hilarious story of a young woman's search for her birth father. This sunny and funny tale unfolds on a Greek island paradise. On the eve of her wedding, a daughter's quest to discover the identity of her father brings three men from her mother's past back to the island they last visited 20 years ago. MAMMA MIA!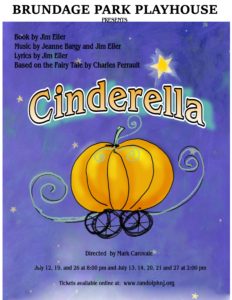 CINDERELLA
Book by Jim Eiler
Music by Jeanne Bargy and Jim Eiler
Lyrics by Jim Eiler
Based on the fairytale by Charles Perrault
Directed by Mark Carovale
Performance Dates: July 12, 19 and 26 at 8:00 pm and July 13, 14, 20, 21 and 27 at 2:00 pm
A godmother, of the fairy variety, inquires of her two helpers about the neediest case in the kingdom. Not surprisingly, they introduce her to Ella, who, after being orphaned, was left in the care of her wicked stepmother and stepsisters. Forced to use the kitchen as a bedroom, Ella can often be found daydreaming among the cinders from the fireplace, inspiring her stepfamily to rename her "Cinderella." Wand in hand, Godmother sets about to change the girl's life. With a dash of belief, a sprinkle of magic and a pinch of true love, Cinderella has her life changed for good.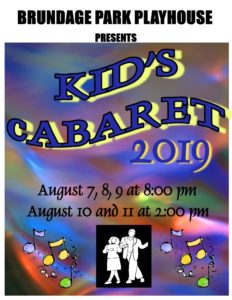 KID'S CABARET 
Performance Dates: August 7, 8, 9, at 8:00pm August 10 and 11 at 2:00pm. Further information regarding this annual production by youth performers will be available on our website.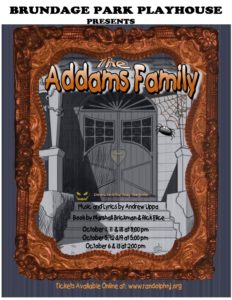 ADDAMS FAMILY
Music and Lyrics by Andrew Lippa
Book by Marshall Brickman & Rick Elice
Directed by Ray Gelpke
Performance Dates: October 4, 11 and 18 at 8:00 pm, October 5, 12 and 19 at 5:00 pm and October 6 and 13 at 2:00 pm
THE ADDAMS FAMILY is every father's nightmare. Wednesday Addams, the ultimate princess of darkness, has grown up and fallen in love with a sweet, smart young man from a respectable family – a man her parents have never met. Everything will change for the whole family on the fateful night they host a dinner for Wednesday's 'normal' boyfriend and his parents.
ELF THE MUSICAL, JR.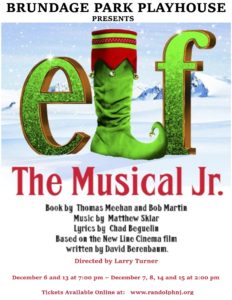 Book by Thomas Meehan and Bob Martin
Music by Matthew Sklar
Lyrics by Chad Beguelin
Based on the New Line Cinema film written by David Berenbaum
Directed by: Larry Turner
Performance Dates: December 6 and 13 at 7:00 pm, December 7, 8, 14 and 15 at 2:00 pm
Buddy, a young orphan mistakenly crawls into Santa's bag of gifts and is transported to the North Pole. The would-be elf is raised unaware that he is actually a human, until his enormous size and poor toy-making abilities cause him to face the truth. With Santa's permission, Buddy embarks on a journey to New York City to find his birth father and discover his true identity. Faced with the harsh reality that his father is on the naughty list, and his stepbrother doesn't even believe in Santa, Buddy is determined to win over his new family and help New York remember the true meaning of Christmas.