Posted By admin on January 4, 2017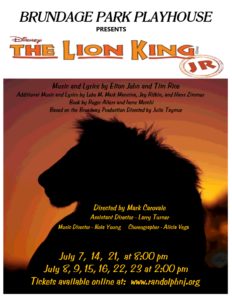 THE LION KING, JR. AT BRUNDAGE PARK PLAYHOUSE
Brundage Park Playhouse is pleased to announce upcoming performances of THE LION KING, JR.
Performance Dates: July 7, 14, 21 at 8:00 pm and July 8, 9, 15, 16, 22, 23 at 2:00pm
THE LION KING, JR.
Directed by Mark Carovale
Music and Lyrics by Elton John & Tim Rice
Additional Music and Lyrics by Will Van Dyke, Lebo M., Mark Mancina, and Jay Rifkin
Book by Roger Allers & Irene Mecchi
Based on the Broadway production directed by Julie Taymor
You'll have 'no worries for the rest of your day' when our young performers bring The Lion King, Jr. to Brundage Park Playhouse in July 2017. Enjoy the heartwarming tale of Simba, the young lion who must face his deepest fears to avenge the murder of his father, Mufasa, and return to Pride Rock to claim his rightful place in 'The Circle of Life'.