BRUNDAGE 

PARK



PLAYHOUSE

The Community Theater of Randolph, NJ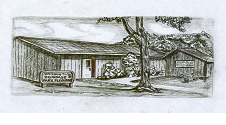 2015 at Brundage Park Playhouse

Brundage Park Playhouse is proud to continue our tradition of presenting affordable, quality entertainment to our patrons during our 2015 Season. We sincerely appreciate your patronage and welcome you to Brundage Park Playhouse for the following productions in 2015. From the small village of Anatevka in Czarist Russia, to Charles M. Schultz's Peanuts and J. M. Barrie's Neverland, to 1962 Baltimore and London, our 2015 season is full of beloved musicals for both our youngest patrons to the eldest. You can also visit our website for more information on our upcoming performances and auditions. Visit us at www.brundageparkplayhouse.org .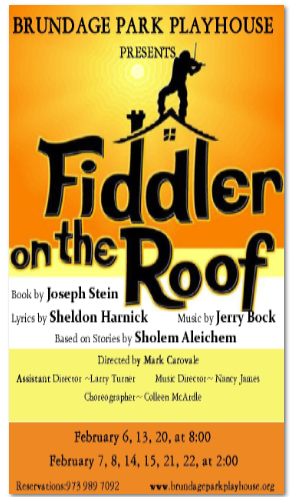 FIDDLER ON THE ROOF

Book by Joseph Stein, Music by Jerry Bock

Lyrics by Sheldon Harnick
Based on Sholem Aleichem's stories
by special permission of Arnold Perl
Directed by Mark Carovale
February 6, 13 and 20 at 8:00 pm
February 7, 8, 14, 15, 21 and 22 at 2:00 pm

Winner of 10 TONY Awards when it debuted in 1965, Fiddler on the Roof is the brainchild of Broadway legends Jerome Robbins, Harold Prince, songwriters Jerry Bock and Sheldon Harnick, and bookwriter Joseph Stein. A musical theater tradition, Tevye the milkman tries to protect his daughters and his way of life from a changing world. With iconic and beloved songs such as "Sunrise, Sunset", "If I Were a Rich Man", and "Matchmaker, Matchmaker", This is the perfect mix of audience-pleasing humor and heart!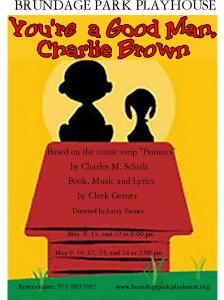 You're a Good Man,
Charlie Brown

Based on the comic strip "Peanuts" by Charles M. Schulz
Book, Music and Lyrics by Clark Gesner
Additional Dialogue by Michael Mayer
Additional Music and Lyrics by Andrew Lippa
Directed by Larry Turner

May 8, 15 and 22 at 8:00 pm
May 9, 16, 17, 23, and 24 at 2:00 pm

Though considered a "good man" by his friends, Charlie Brown can't seem to win the heart of the Little Red-Haired Girl, nor his friend Lucy, her crush, the piano-playing Schroeder. Meanwhile Snoopy and Linus daydream and the rest of the friends battle with kites, school, baseball and misunderstandings before finally coming to realize what makes them truly happy.

DISNEY'S
Peter Pan, Jr.
Book and additional Lyrics by David Zellnik

Music and lyrics by Winston Hibler, Ted Sears, George Bruns, Sammy Fain, Jack Lawrence, Sammy Cahn, Michael Tumes, Xavier Atencio, Frank Churchill, Oliver Wallace and Ray Kelly

Music Adapted and Arranged and Additional Lyrics by Eric Svejcar
Directed by Mark Carovale
July 10, 17, and 24 at 8:00 pm
July 11, 12, 18, 19, 25 and 26 at 2:00 pm

Based on the Disney film and J.M. Barrie's enchanting play, Disney's Peter Pan Jr. is a modern version of the timeless tale about a boy who wouldn't grow up. The score includes new arrangements of classic Disney songs, such as "Following the Leader", "You Can Fly" and Yo Ho, A Pirate's Life for Me".  Wendy Darling loves to tell stories to her brothers, Michael and John., but when her father announces she must move out of the nursery, Peter Pan comes to visit the children and whisks them away to Neverland. Their adventure introduces them to the Lost Boys, Mermaids, Indians and even the infamous
pirate, Captain Hook!

Kid's Cabaret

Directed by Alicia Vega

August 12, 13 and 14 at 8:00 pm

August 15 and 16 at 2:00 pm

One of our favorite productions, the 2015 Kid's Cabaret is sure to please audiences of all ages! A wonderful chance for our youth to take center stage and shine in delightful musical numbers.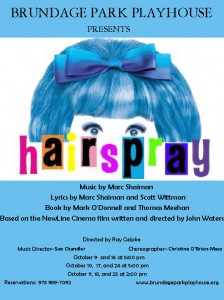 HAIRSPRAY

Music By Marc Shaiman
Lyrics by Mark Shaiman and Scott Wittman
Book by Mark O'Donnell and Thomas Meehan
Based on the New Line Cinema film written and directed by John Waters

Directed by Ray Gelpke
October 9 and 16 at 8:00 pm
October 10,  17, and 24th at 5:00 pm October 11, 18, and 25 at 2:00 pm

You can't stop the beat in this big and bold musical about one girl's inspiring dream to dance. The 1950's are out and change is in the air.  Hairspray, winner of 8 Tony Awards including Best Musical, is a family-friendly musical piled bouffant high with laughter, romance, and deliriously tuneful songs.

A Musical Christmas Carol

Adapted by Mark Carovale

Directed by Mark Carovale

December 4 and 11 at 8:00 pm

December 5, 6, 12, and 13 at 2:00 pm

The classic story of Ebenezer Scrooge from the Charles Dickens story "A Christmas Carol". Scrooge is visited by the ghost of his partner Jacob Marley and is told he will be visited later that night by three spirits.  If he can alter his miserly ways, Scrooge can change his gloomy fate and escape an eternity of agony.

Tickets for all productions can be ordered by calling the box office at 973-989-7092

*All reservations require a Visa or a MasterCard

2015 SCHEDULE
Show

 

Adults

   Children under 12

      and Seniors

Fiddler on the Roof

$20

$15

You're a Good Man Charlie Brown

$20

$15

Peter Pan, Jr.

$20

$15

Kid's Cabaret

$20

$15

Hairspray

$20

$15

Scrooge A Musical Christmas

$20

$15
There is a discount available for groups of ten or more.

BOX OFFICE CAN BE REACHED 9:00-4:00, MONDAY THROUGH FRIDAY. RESERVATIONS ARE TAKEN FOR ALL PRODUCTIONS ON A FIRST COME FIRST SERVED BASIS. YOU MUST HAVE A VISA OR MASTERCARD TO MAKE ANY RESERVATION. CANCELLATIONS MUST BE CALLED IN AT LEAST 24 HOURS IN ADVANCE. CANCELLATIONS FOR A SATURDAY OR SUNDAY PERFORMANCE MUST BE MADE BY 4:00 PM ON FRIDAY. TICKETS NOT PICKED UP PRIOR TO 7:50 PM OR 1:50PM OF PERFORMANCE DAY, WILL BE CONSIDERED A NO SHOW AND YOUR CREDIT CARD WILL BE CHARGED.

MORE AT BRUNDAGE PARK PLAYHOUSE

Summer Stages , Budding Stars and Advanced Performers Workshop 2015 Summer Programs

Theater Classes – Fall and Winter

Please call the theater at 973-989-7092

or visit our website at www.brundageparkplayhouse.org

or

for details on all of our programming!

EVERYONE IS WELCOME AT BPP

Whether you have been involved in theater for years or have never even seen a play, we have an opportunity for you. We're always looking for new people with varying skills and interests to get involved. Ushers can attend shows for free. We're always seeking new set builders, costume designers, camp staff, and more. Please contact the theater if you are interested in becoming part of the BPP family by calling us or by contacting BPP@brundageparkplayhouse.org

Call 973-989-7092 or visit our website for audition info.

All shows subject to change – stay tuned to our website for the latest information!

Brundage Park Playhouse is a division of the Randolph Township Department of Parks, Recreation, and Community Services.