BRUNDAGE PARK PLAYHOUSE 2016 SEASON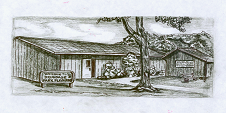 Brundage Park Playhouse is pleased to offer affordable, quality entertainment to our patrons during our 2016 Season. We sincerely appreciate your patronage and welcome you to Brundage Park Playhouse for the following productions in 2016. From hilarious happenings in ancient Rome, to the presidential palace in Buenos Aires, to a quaint English village where the animals talk to their doctor, to the Roaring 1920's in New York City and finally to the magic of the Santa's Workshop in the North Pole, Brundage Park Playhouse is delighted to present our 2016 Season.
A FUNNY THING HAPPENED ON THE WAY TO THE FORUM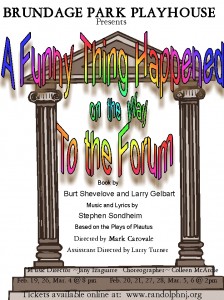 Book by Burt Shevelove and Larry Gelbart
Music and Lyrics by Stephen Sondheim
Based on the plays by Plautus
Directed by Mark Carovale
Performance Dates:
February 19, 26 and March 4 at 8:00 PM
February 20, 21, 27, and 28 at 2:00 PM
March 5 and 6 at 2:00 PM
A Funny Thing Happened on the Way to the Forum is a seriously hilarious Tony Award winning Broadway musical  that involves the scheming Psedulous, an ambitious slave in ancient Rome, who wants his freedom. By convincing his master's son, Hero, to marry the lovely Philia, Psedulous hopes his master Senex will free him. A good plan, but as the opening song tells us: "Something familiar, something peculiar, something for everyone: a comedy tonight!"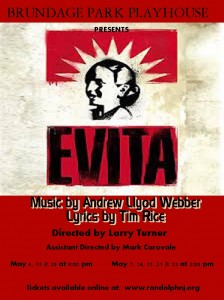 EVITA 
Music by Andrew Lloyd Webber
Lyrics by Tim Rice
Directed by: Larry Turner
Performance Dates:
May 6, 13 and 20 at 8:00 pm
May 7, 14, 15, 21 and 22 at 2:00 pm
From the announcement of her death in a movie theater in Buenos Aires in 1952, the Andrew Lloyd Webber and Tim Rice musical retraces Eva's early life to her meteoric rise to power as the First Lady of Argentina. Narrated by the character of Che, Evita examines the true impact that Eva Peron had on her country through well-known songs such as "Oh, What a Circus", "Another Suitcase In Another Hall", and the beloved ballad "Don't Cry for Me, Argentina." and many others.
Music and Lyrics by Leslie Bricusse
Based on the Doctor Dolittle stories by Hugh Lofting and The Twentieth Century Fox Film.
Directed by: Mark Carovale
Performance Dates:
July 8, 15 and 22 at 8:00 pm
July 9, 10, 16, 17, 23 and 24 at 2:00 pm
A wacky, but kind doctor who can talk to animals, Dr. Dolittle, Jr. takes the audience on a journey from the small English village of Puddleby-On-The-Marsh to the far corners of the world. When Doctor Dolittle attempts to help a seal named Sophie, he's wrongly accused of murder and stands trial before General Bellowes. Once pronounced innocent, Dr. Dolittle is free to continue with his search for the Great Pink Sea Snail – the oldest and wisest of the creatures on earth.
ANNUAL KID'S CABARET: It's Not Easy Being Green – A Group Therapy Cabaret 
Directed by: Matthew and Danielle Swiss
Performance Dates:
August 10, 11 and 12 at 8:00 pm
August 13 and 14 at 2:00 pm
Talented youth put on another fabulous cabaret with singing, dancing and acting in various musical numbers and comedy skits. Visit our website later in the year to read more about this exciting production.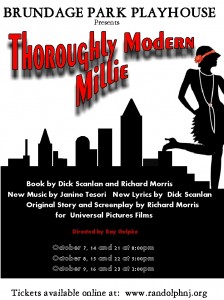 THOROUGHLY MODERN MILLIE
New Music by Janine Tesori
New Lyrics by Dick Scanlan
Book by Dick Scanlan and Richard Henry Morris
Original Story and Screenplay by Richard Morris for Universal Pictures Films
Directed by: Ray Gelpke
Performance Dates:
October 7, 14 and 21 at 8:00 pm
October 8, 15 and 22 at 5:00 pm
October 9, 16 and 23 at 2:00 PM
Millie Dillmount arrives in 1922 Manhattan. She has guts, pluck, charisma, and moxie. She may be from a small town, but she's got big dreams. She's here to make those dreams come true and nothing can deter her or send her running home.  Filled with frisky flappers, dashing leading men and a dragon-lady of a villain audiences will love to hate, Thoroughly Modern Millie is a perfectly constructed evening of madcap merriment.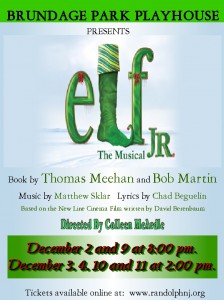 ELF THE MUSICAL, JR.
Book by Thomas Meehan and Bob Martin
Music by Matthew Skiar
Lyrics by Chad Beguelin
Based on the New Line Cinema film written by David Berenbaum
Directed by: Colleen McArdle
Performance Dates:
December 2 and 9 at 8:00 pm
December 3, 4, 10 and 11 at 2:00 pm
Buddy, a young orphan mistakenly crawls into Santa's bag of gifts and is transported to the North Pole. The would-be elf is raised unaware that he is actually a human, until his enormous size and poor toy-making abilities cause him to face the truth. With Santa's permission, Buddy embarks on a journey to New York City to find his birth father and discover his true identity. Faced with the harsh reality that his father is on the naughty list, and his stepbrother doesn't even believe in Santa, Buddy is determined to win over his new family and help New York remember the true meaning of Christmas.