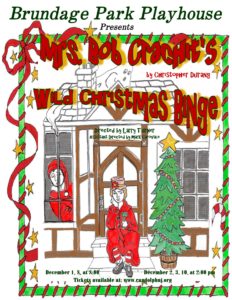 Brundage Park Playhouse is holding auditions for its upcoming production of
Mrs. Cratchit's Wild Christmas Binge
Auditions are scheduled for Monday, October 9th and Tuesday, October 10th from 7-9 pm and callbacks are on Thursday, October 12th at 7:00 pm at the playhouse on Carrell Road in Randolph.
 Auditioners need to be prepared to do a reading and should prepare 16 measures of a Christmas song in accapella. All parts are open, except for Scrooge and Mrs. Cratchit.
MRS. CRATCHIT'S WILD CHRISTMAS BINGE
by Christopher Durang
Directed by: Larry Turner
Assistant Director:  Mark Carovale
Performances:
December 1 and  8 at 8:00 pm
December 2, 3, 9 & 10 at 2:00pm
Suffice to say this is not your usual adaptation of the well-known story about Ebenezer Scrooge's Christmas transformation.  No, this is a musical parody with a very different Mrs. Cratchit than the long-suffering, goody-goody wife in the original story.  Throw in a Ghost who can't seem to get Scrooge to the right places in neither  the past, present nor future, 21 Cratchit children, and two or three other characters not in the original story, and  you have a new definition of  "Binge"- watching.
CHARACTER LIST:
The Ghost of Christmas Past/Present and Future
Bob Crachit
Tiny Tim
Little Nell Crachit
Crachit Child 1
Crachit Child 2
Gentlemen Collecting for Christmas
Jacob Marley's Ghost
Young Jacob Marley
Young Ebeneezer Scrooge
Mr. Fezziwig
Mrs. Fezziwig
Fezziwig Daughters
The Beadle
The Beadle's Wife
Edgar
Hedwig
Bartender 1
Bartender 2
Clarence (the Angel)
Bailey
Zuzu
Monica (the Angel)
The Nice Mrs. Cratchit
Serena the maid
Five of the adults play only one part: Ghost, Scrooge, Mrs. Bob Cratchit, Bob Cratchit, Tiny Tim
For further information please contact Brundage Park Playhouse at (973) 989-7092