Audition Notice for
Young Frankenstein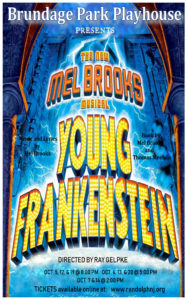 Brundage Park Playhouse is pleased to announce its second audition for its upcoming performances of Young Frankenstein. Dancers/Ensemble needed to round out the cast.
Audition will be held on Sunday, August 19 at 5:00 PM to 7:00 PM
All auditions will be at the playhouse on Carrell Road in Randolph, NJ. All Auditioners ages 15 and up should be prepared to sing, provide a headshot and resume if available. Photos will be taken at the audition for those performers without headshots. All auditioners must be available for rehearsals during tech week, and for all performance dates.  Any questions,  egelpke@aol.com
Performance Dates:
October 5,12, 19 at 8:00 PM
October August 6, 13, 20 at 7:00 PM
October 7 & 14 at 2:00 PM
Music and Lyrics by Mel Brooks
Book by Mel Brooks and Thomas Meehan
Directed by Ray Gelpke
The grandson of the infamous Victor Frankenstein, Frederick Frankenstein (pronounced Fronk-en-steen) inherits his family's estate in Transylvania.  With his hunchbacked sidekick Igor (pronounced eye-gore) and lovely lab assistant Inga, Fredrick creates a monster of his own with hilarious and monstrously good entertainment.
Future Audition Dates
A CHRISTMAS STORY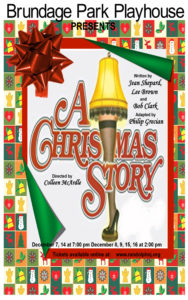 The audition dates are October 15 at 5:30-8:00 PM and October 17 at 5:30-8:00 PM.
Performance Dates: December 7, 14 at 7:00 PM and
December 8, 9, 15, 16 at 2:00 PM
Based on the motion picture A Christmas Story distributed by Warner Bros., you'll follow young Ralphie Parker's quest for the Holy Grail of Christmas gifts — an Official Red Ryder carbine-action 200-shot Range Model air rifle. Iconic scenes from the movie are here:  Ralphie's friend, Flick, getting his tongue stuck to the flagpole; his brother, Randy, getting dressed in his snowsuit, the leg lamp award; and many others.  A true holiday favorite!
For further information on auditions please contact Brundage Park Playhouse at (973) 989-7092