AUDITIONS FOR A CHRISTMAS STORY
at BRUNDAGE PARK PLAYHOUSE, RANDOLPH, NJ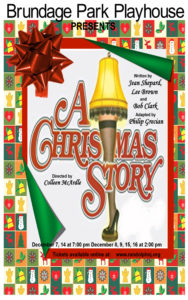 Brundage Park Playhouse is pleased to announce auditions for its upcoming performances of
A CHRISTMAS STORY.   All auditions will be at the playhouse on Carrell Road in Randolph, NJ. Some of the roles will be played by adults and have already been cast by the director. All auditioners ages 8-18 should be prepared to sing and read from sides, provide a headshot and resume if available. Photos will be taken at the audition for those performers without headshots. All auditioners must be available for rehearsals during tech week and for all performance dates.   No appointments necessary for auditions.
Audition Dates: Monday, October 15, 2018 from 5:30 – 7:30 pm and Wednesday, October 17, 2018 from 5:30 – 7:30 pm.
Performance Dates: December 7 and 14 at 7:00 pm, December 8, 9, 15, 16 at 2:00 pm
Director, Choreographer and Musical Director:  Colleen McArdle
Written by Jean Shepherd, Leigh Brown and Bob Clark
Humorist Jean Shepherd's memoir of growing up in the midwest in the 1940s follows 9-year-old Ralphie Parker in his quest to get a genuine Red Ryder BB gun under the tree for Christmas. Ralphie pleads his case before his mother, his teacher and even Santa Claus himself, at Higbee's Department Store. The consistent response: "You'll shoot your eye out!" All the elements from the beloved motion picture are here, including the family's temperamental exploding furnace; Scut Farkas, the school bully; the boys' experiment with a wet tongue on a cold lamppost; the Little Orphan Annie decoder pin; Ralphie's father winning a lamp shaped like a woman's leg in a net stocking; Ralphie's fantasy scenarios and more. A Christmas Story is destined to become a theatrical holiday perennial.
Characters:
RALPH as an adult…a storyteller
Also plays: COWBOY, TREE LOT OWNER, DELIVERY MAN, VOICE OF A NEIGHBOR
RALPHIE PARKER…Ralph at 9 years old
MOTHER… his mother
THE OLD MAN…his father
RANDY…his little brother
MISS SHIELDS…his teacher
FLICK…his friend and classmate, also plays: DESPERADO ONE
SCHWARTZ…his friend and classmate, Also plays: DESPERADO TWO
ESTHER JANE ALBERRY…a classmate
HELEN WEATHERS…a classmate
SCUT FARKAS…a bully, Also plays: BLACK BART
SANTA CLAUS…a jolly old elf; heard, never seen
(Played by the same actor who plays The Old Man)
*The opportunity exists to cast the 19 roles with 19 actors, plus extras, including children walking to school, on the playground, in the classroom. Schwarz's mother's voice is doubled by the actor playing Miss Shields.
Voices that may be done live or pre-recorded are:
The Radio Announcer
The Higbee's Public Address Voice
The Cruising Adolescents who cheer and honk
Extra children in the classroom; heard, never seen
For more information please contact Brundage Park Playhouse at (973) 989-7092