JAMES AND THE GIANT PEACH, JR.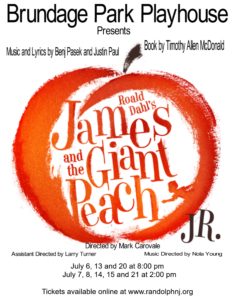 Directed by Mark Carovale
Book by Timothy Allen McDonald
Music and Lyrics by Benj Pasek and Justin Paul
Based on the book James and the Giant Peach by Roald Dahl
July 6, 13, 20 at 8:00 pm
July 7, 8, 14, 15, 21 at 2:00 pm
With a wickedly fun score from the TONY Award-nominated pair of Pasek and Paul and a creative, quirky book by Timothy Allen McDonald, Jame and the Giant Peach, Jr. is one of our For Kids By Kids productions.  It's summertime fun for the whole family.
James and the Giant Peach Cast List
Ladahlord…..Zachary Sussman…..Randolph
James……..Steven George…..Stanhope
Ladybug…….Charlotte Sussman…….Randolph
Grasshopper……Nico Gregory……Randolph
Spider…….Elizabeth Pietrucha…..Randolph
Earthworm……….Arya Mujumdar………Randolph
Centipede…….Arthav Naidu……Randolph
Spiker…..Jackie Klein…..Flanders
Sponge…..Hope Keil…..Randolph
Matron Nurse…….Ava Capetta…….Boonton
Ensemble:
Leah Ohlssen…..Randolph
Amaia Biggin…..Randolph
Sofia Slaman…..Randolph
Abby Simon…..Mendham
Lloyd Silikovitz…….Randolph