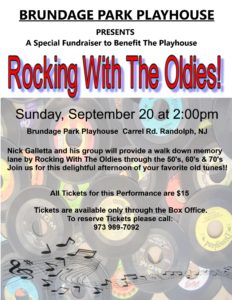 ROCKING WITH THE OLDIES!  – 
Special fundraiser to benefit the
Brundage Park Playhouse Theater
Sunday, September 20, 2020 at 2 p.m.
Location: On the lawn by Gazebo between the Randolph Library and the Randolph Recreation Center 

Rocking with the Oldies through the 50's 60's and 70's, Nick Galletta and his group will provide a walk down memory lane.  Join us for this delightful afternoon of your favorite old tunes!!!   
All tickets for this show are $15   Advanced sales only. No tickets will be sold at the event.  Bring your own chair and mask. 
Tickets are available online through Randolph's Community Pass system.