Welcome to the 2023 Brundage Park Playhouse's 44th season of sensational productions!  Please join us and give us the opportunity to thrill and delight you with our exciting programming devised to appeal to and satisfy a wide variety of tastes.  Allow us to entertain you by tapping into all the buttons that stimulate your laughter, tears, hopes, and fears.  Our stories will transport you to places familiar, nostalgic, imagined and sometimes a little unsettling, but alas, all with a happy ending!  Theater is a grand experience and it's right here waiting for you!!!
~~~~~~~~~~~~~~~~~~~~~~~~~~~~~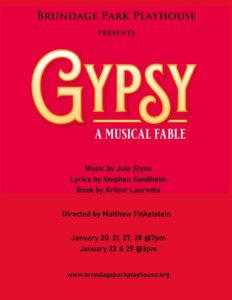 GYPSY
Music by  Jule Styne
Lyrics by Stephen Sondheim
Book by Arthur Laurents
Performance Dates:
January 20, 21, 27, 28 at 7pm
January 22 & 29 at3 pm
A Musical Fable, it is loosely based on the 1957 memoirs of striptease artist Gypsy Rose Lee, and focuses on her mother, Rose, whose name has become synonymous with "the ultimate show business mother."
~~~~~~~~~~~~~~~~~~~~~~~~~~~~~
The Tony Award and Pulitzer Prize winning masterpiece play by Neil Simon
Performance Dates: 
March 10, 11, 17, 18 at 7pm
March 12 & 19 at 3pm
 A bittersweet comedy! New York in 1942, about two brothers who are sent to live with their stern German grandmother after their mother's death. Placed there by their traveling salesman father, the boys find themselves contending with new realities – a childlike aunt, a gangster uncle, and a dad who is never there.
~~~~~~~~~~~~~~~~~~~~~~~~~~~~~
ONCE UPON A MATTRESS
Music by Mary Rodgers
Lyrics by Marshall Barer
Book by Jay Thompson, Dean Fuller, and Marshall Barer.
Performance Dates:
May 12, 13, 19, 20 at 7pm
May 14, 21 at 3pm
 The musical was written as a humorous adaptation of the 1835 Hans Christian Anderson fairy tale "The Princess and the Pea".  In this musical version Princess Winnifred is an ungainly, brash girl competing for the hand of Prince Dauntless, whose domineering mother Queen Aggravain has declared he must marry a "true" princess before anyone else in the kingdom can marry. Once Upon A Mattress marked the Broadway debut of later stage and TV personality Carol Burnett, who originated the role of Princess Winnifred.
 ~~~~~~~~~~~~~~~~~~~~~~~~~~~~~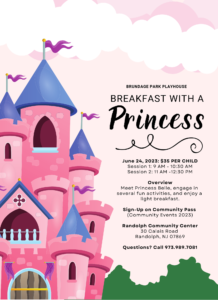 Breakfast with a Princess
Date: June 24, 2023
9am & 11am seatings
Location:
Randolph Community Center
~~~~~~~~~~~~~~~~~~~~~~~~~~~~~
 BEAUTY AND THE BEAST
Music by Alan Menken
Lyrics by Howard Ashman and Tim Rice
Book by Linda Woolverton
Performance Dates: 
June 30 & July 7 at 7 pm 
July 1 & 8 at 2pm and 7pm
July 2 & 9 at 3 pm 
 A Disney stage musical adapted from Walt Disney Pictures' Academy Award-winning 1991 animated musical film of the same name. The story of an unkind prince who has been magically transformed into an unsightly creature as punishment for his selfish ways. To revert into his true human form, the Beast must learn to love a bright, beautiful young lady who he has imprisoned in his enchanted castle before it is too late.
~~~~~~~~~~~~~~~~~~~~~~~~~~~~~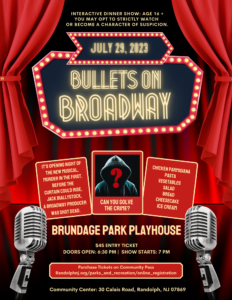 Bullets on Broadway
Murder Mystery Dinner
July 29th at 6:30pm
Location: Randolph Community Center
~~~~~~~~~~~~~~~~~~~~~~~~~~~~~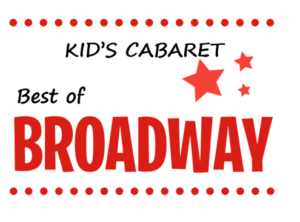 KID'S CABARET
Best of Broadway
Location: Randolph Community Center
Performance Dates:
Friday, August 4 at 7pm
Saturday, August 5 at 2pm and 7pm
Sunday, August 6 at 7pm
~~~~~~~~~~~~~~~~~~~~~~~~~~~~~
By Tennessee Williams
Performance Dates: 
Fridays:  August 18 and August 25 at 7pm
Saturdays: August 19 and August 26 at 7pm
Sundays:  August 20 and August 27 at 3pm
Tennessee Williams' Pulitzer Prize-winning play Cat on a Hot Tin Roof, the dysfunctional but wealthy Pollitt family gathers to celebrate aging patriarch Big Daddy's birthday. But there is more to this gathering than a family reunion.  Lurking under every practiced interaction between the Pollitts is an ulterior motive, under every smile, a challenge, and under every statement, the specter of mendacity. For the Pollitts, the truth is as hazy as the late summer sun in Mississippi, and sometimes the only way to find it is to journey through the lies.
~~~~~~~~~~~~~~~~~~~~~~~~~~~~~
Book by Lawrence D. Cohen
Music by Michael Gore
Lyrics by Dean  Pitchford
Performance Dates:
Fridays: October 6, and 13 at 7 pm
Saturdays: October 7 and 14 at 5 pm
Sundays: October 8 and 15 at 3 pm
 Adapted from Stephen King's 1974 novel Carrie, it focuses on an awkward teenage girl with telekinetic powers whose lonely life is dominated by an oppressive religious fanatic mother. When she is humiliated by her classmates at the high school prom, she unleashes chaos on everyone and everything in her path.
~~~~~~~~~~~~~~~~~~~~~~~~~~~~~
Music by George Stiles
Lyrics & Book  by Anthony Drewe
Performance Dates: 
December 1 and 8 at 7 pm
December 2, 3, 9, 10 at 2 pm
This delightful adaptation of the beloved fable and the award-winning musical is a heartwarming celebration of what makes us special. A heartwarming celebration of being different.  Ugly looks a bit different than his brothers and sisters.  He finds himself on an adventure of self-discovery and meets a whole flock of unique characters and finds out being different in not a bad thing to be.