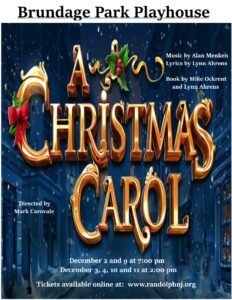 A CHRISTMAS CAROL
Music by Alan Menken
Lyrics by Lynn Ahrens
Book by Mike Ockrent &
Lynn Ahrens

Directed by Mark Carovale
Performance Dates:
December 2 and 9 at 7pm
December 3, 4, 10 and 11 at 2pm
Ebenezer Scrooge is a prosperous curmudgeon who believes that personal wealth is far more valuable than the happiness and comfort of others. With an infuriated "Bah Humbug!", Scrooge summates his feelings of Christmas tidings and charitable giving, but he's forced to face his selfish ways when three ghosts on Christmas Eve lead him through his Past, Present and Future. Thanks to their guidance, Scrooge recognizes his faults and greets Christmas morning with a cheerful "Happy Christmas" before spending the day reconnecting and sharing love with those that mean the most to him.
Prices are $20 for children under 12, seniors 62 and above and military personnel with ID.  All others are $25.  All seats are General Admission (no assigned seating).
Purchase tickets online through Randolph's Community Pass system.

For more information visit www.brundageparkplayhouse.org or call the theater at (973) 989-7092.