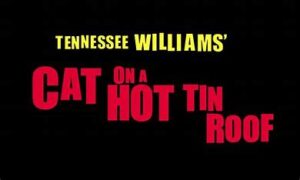 Brundage Park Playhouse is proud to announce its upcoming auditions for Tennessee Williams' Cat on a Hot Tin Roof at the playhouse in Randolph, NJ.
Audition Dates:
Sunday June 11, 3-5 pm
Tuesday June 13, 7-9 pm
Call Backs:  Thursday June 15, 7-9 pm.
Audition Location:  2 Bungalow Lane, Randolph, NJ. 
Note: The theater bungalow is located in the upper left corner of the Brundage Park parking lot.
Auditioners ages 18 and up will be asked to read from sides provided at the audition.  Please provide a headshot and resume if available. Photos will be taken at the audition for those performers without headshots.  All auditioners must be available for all rehearsals during the entire tech week (August 13 through August 17) and for all performance dates.  No appointments are necessary for auditions. 
CAT ON A HOT TIN ROOF
By Tennessee Williams
Directed by Nick Wolf
Performance Dates: 
August 18, 19 and 25, 26 at 7 pm
August 20 and 27 at 3pm 
Tennessee Williams' Pulitzer Prize-winning play Cat on a Hot Tin Roof, the dysfunctional but wealthy Pollitt family gathers to celebrate aging patriarch Big Daddy's birthday. But there is more to this gathering than a family reunion.  Lurking under every practiced interaction between the Pollitt's is an ulterior motive, under every smile, a challenge, and under every statement, the specter of mendacity. For the Pollitt's, the truth is as hazy as the late summer sun in Mississippi, and sometimes the only way to find it is to journey through the lies.
Characters:
 Margaret:  Lead, Female, 23-36
Brick's wife, edgy, tense and suspicious of Brick's friendship with his friend Skipper.
Brick: Lead, Male, 23-36
Former athlete, favorite son of the family, has become a difficult alcoholic after the suicide of his best friend Skipper.
Big Daddy:  Supporting, Male, 50-75
The family patriarch, known to be brash and vulgar.
Big Mama:  Supporting, Female, 50-75
Sincere, embarrassingly dedicated to a man who seems to despise her, considers Brick her "only son."
Mae: Supporting, Female, 30-45
Mean, agitated, schemes with her husband Gooper to inherit Big Daddy's estate.
Gooper: Supporting, Male, 30-45
The eldest, yet least favored sibling, a successful corporate lawyer who resents his parents' love for Brick, schemes to take over the family estate.
Reverent Tooker:  Supporting, Male, 35-70 Tactless, opportunistic,
hypocritical guest at the birthday party.
Doctor Baugh:  Supporting, Male, 35-70 Big Daddy's physician.