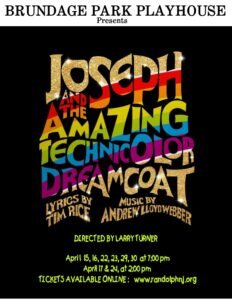 Audition Notice
JOSEPH AND THE AMAZING TECHNICOLOR DREAMCOAT 
All auditions will be at the playhouse on Carrell Road in Randolph, NJ. All Auditioners should be prepared to sing a song that best features their vocal skills (a capella) and read from sides (sides will be provided).  Please provide a headshot and resume if available. Photos will be taken at the audition for those performers without headshots. All auditioners must be available for rehearsals during tech week and for all performance dates.
Children's Choir members can be any age from 10 and up.  The rest of the cast should be 15 and above. 
AUDITION DATES AND TIMES: Friday, January 28 from 7-9 PM and Sunday, January 30 from 2-4 PM   No appointments necessary.
PERFORMANCE DATES: April 15, 16, 22, 23, 29 and 30 at 7:00 pm and April 17 and 24 at 2:00 pm
TECH WEEK: April 9-13
JOSEPH AND THE AMAZING TECHNICOLOR DREAMCOAT
Lyrics by Tim Rice
Music by Andrew Lloyd Webber
Directed by Larry Turner
Performance Dates: April 15, 16, 22, 23, 29 and 30 at 7:00 pm and April 17 and 24 at 2:00 pm
Sha la la Joseph you're doing fine! You and your dreamcoat ahead of your time! One of the most enduring shows of all time, Joseph and the Amazing Technicolor Dreamcoat is a reimagining of the Biblical story of Joseph, his father Jacob, eleven brothers and the coat of many colors.
CAST:
-Narrator Male/Female Lead Tenor/Mezzo-Soprano
-Joseph Male Lead Tenor
-Jacob Male Supporting Baritone
-Pharaoh Male Supporting Baritone
-*Simeon Male Supporting Baritone
-*Levi Male Supporting Baritone
-*Judah Male Supporting Tenor
-*Reuben Male Supporting Baritone
-*Dan Male Supporting Baritone
-*Naphtali Male Supporting Baritone
-*Gad Male Supporting Baritone
-*Asher Male Supporting Baritone
-*Issachar Male Supporting Baritone
-*Zebulun Male Supporting Baritone
-*Benjamin Male Supporting Baritone
-Potiphar Male Featured Baritone
-Mrs. Potiphar Female Featured Spoken
-Baker Male Featured Tenor
-Butler Male Featured Tenor
-Ensemble Both Ensemble All Voices
*indicates Joseph's brothers
Children's Choir Members (numerous)
*****PLEASE READ BELOW *****
***As we prepare for the New Year and the beginning of our 2022 season, the health and safety of our patrons, performers, volunteers, students and staff are of critical concern in view of the rising Covid cases in New Jersey.  Our theater's small footprint, the small size of the trailer, the green room and the tiny backstage area, all make for very close contact for prolonged periods of time during rehearsals and programs.
Beginning January 1, all people auditioning, performing, employed or volunteering at events at Brundage Park Playhouse must show proof of full vaccination prior to entry. The only exceptions are for those who cannot get a vaccine due to medical condition, religion or other valid reason; in this case you must produce a negative COVID test taken within 48 hours before entering the theater. Send proof of vaccination to:  turnerlaw@optonline.net  and vlenyk@randolphnj.org   before the audition date.
Masks will be required at all times for everyone while in the building, including children, and may be removed only while engaged in eating or drinking.
More and more artists and venues have made this policy a requirement for performances to take place, in accordance with the advice by medical experts. In order to have a policy consistent with the industry, we have adopted these guidelines. It is the best and safest way to bring you live performances on our stage that protect everyone performing or working events at Brundage.  We will continue to monitor the rapidly changing conditions and review our policy and the recommendations of health experts in order to ensure the safest way to present productions.