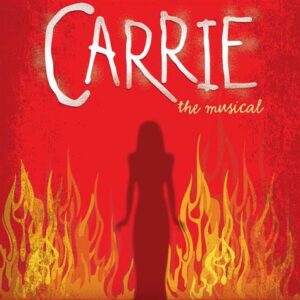 CARRIE: THE MUSICAL
Book by Lawrence D. Cohen
Music by Michael Gore
Lyrics by Dean Pitchford
Directed/ Choreographed
by Jeorgi Smith
Music Direction by David Blazier
Performance Dates:
Fridays: October 6, and 13 at 7 pm
Saturdays: October 7 and 14 at 5 pm
Sundays:  October 8** and 15 at 3 pm
Carrie: The Musical follows a young woman with telekinetic powers. An outcast at school, where she is bullied viciously for her differences, Carrie is also lost at home, with a fervently religious mother whose love traps her in its maw. When PE teacher Miss Gardner, kind classmate Sue Snell, and boyfriend Tommy Ross reach out to try and help Carrie, it seems that for once, Carrie might have a shot at being accepted. But Chris Hargensen, the class's most vicious bully, has other ideas. Pushed to the brink, Carrie's powers threaten to overwhelm her, and devour everyone around her in flame.
 CAST
Carrie White – Alex Vacciano, Boonton
Margaret White – Alexis Rizzo, Belleville
Sue Snell – Emily Moran, Midland Park
Tommy Ross – Justice Vera, Mount Olive
Chris Hargensen – Zoya Vaidya, Budd Lake
Billy Nolan – Lincoln Vera, Mount Olive
Miss Gardner/Female Voice – Holly Stefanik, Union
Mr. Stephens/Ensemble – Joe Lanigan, Morris Plains
Norma – Skylar Tomlin, Franklin
Frieda – Jadelyn Anderson, Budd Lake
Helen – Ally Distel, Dover
George – Ryan Williams, Hackettstown
Freddy -Aidan Koch, Mount Tabor
Stokes/Rev. Bliss/ Male Voice – Matthew North, Succasunna
ENSEMBLE
Emma Carothers, Dance Captain, Randolph
Natalie Crespolini, Randolph
Sonia Meli, Morristown
** Please note:  On Sunday October 8th at 3pm, the roles of Carrie and Norma will be played by Skylar Tomlin and Emma Carothers.  
Prices are $20 for seniors 62+ and military personnel.  General admission is $25.  There is no assigned seating in the theater.  Recommended audience age for Carrie: The Musical is 13 years and older.  Purchase tickets online through Randolph's Community Pass system.