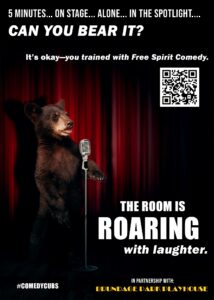 Registration is open for FREE SPIRIT COMEDY Stand-Up Comedy Writing and Performance classes at Brundage Park Playhouse.
Follow this link to register now for Fall Classes!!
Select online registration and choose Fall Classes Art/Theater 2022
Are you the class clown? Or an introvert with a lot of funny opinions about the world around
you? No matter what your personality type, making others laugh is something most of us
enjoy—and all of us have the ability to do. Whether you are already funny or think you could be, Stand Up Comedy Writing and Performance will help anyone overcome the fear of speaking in front of an audience while learning fundamental communication skills that can be applied both on and off the stage, in personal and professional experiences. Come see if you have what it takes to stand in front of an audience and make them laugh!
Class Information:
Thursdays, 4:30pm – 6:00 pm 
Ages 11 – 17
Location: Brundage Park Playhouse & Bungalow 1 on 10/27, 11/3 and 11/10 
Thursdays, 6:30pm – 8:00 pm
Adults
Location: Bungalow 1
Class Dates: September 29; October 6, 13, 20, 27; November 3, 10 
Performance Date:  Thursday, November 17, 7:30 – 9:30 pm 
(Rehearsal at 5:30 pm for all students) 
Location: Brundage Park Playhouse
Cost: $225
What's Included
• Seven (7) 90-minute classes and a 2-hour rehearsal on day of show
• A graduation performance on a showcase featuring professional comedians
• A YouTube link to a video recording of your performance
• A really cool t-shirt
• Pizza on night of the show
• Enhanced self-esteem and bragging rights!
Your instructor:
As a comedian, Vincent Vitale spent six years on the NYC comedy scene, where he performed at many renowned clubs including Caroline's on Broadway, Gotham Comedy Club and Stand
Up NY, and regularly produced shows at Broadway Comedy Club, The Grisly Pear and Maxwell's Tavern in Hoboken. He was cast on three different TV programs on MTV, Fox and ABC and was also the first guest of a popular podcast featured on the Huffington Post. A former operations director of a Manhattan-based comedy school, he is currently supervisor of Sussex County Community College's broadcasting and communications program, as well as
host/showrunner for a cabaret show at Crystal Springs Resort. He holds an MBA from William Paterson University and B.A. degrees in Communication and Psychology from Rutgers College.
As a comedy instructor, he has coached and written for individuals of all ages and backgrounds, from first-time performers to20 experienced professionals across a wide range of industries.
For more information, please visit our website at www.brundageparkplayhouse.org