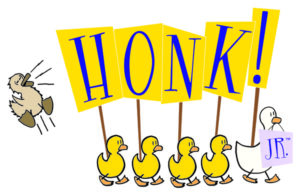 Brundage Park Playhouse is proud to announce its upcoming performances of the musical Honk! JR at the playhouse on Carrell Road in Randolph. 
Performance Dates: 
December 1 and 8 at 7 pm
December 2, 3, 9, 10 at 2 pm
Honk! JR
Music by George Stiles
Lyrics & Book by Anthony Drewe
Directed by Liz Rosato
Music Director – NicolePaige Uvenio
Choreographer – Dawn Warga
Based on Hans Christian Andersen's The Ugly Duckling, Honk! JR tells the story of an odd-looking baby duck, Ugly, and his quest to find his mother. Soon after Ugly is born, he is seduced away by a wily Cat who wants to eat Ugly for dinner. Eventually, Ugly manages to escape but has no idea how to return home. 
CAST
Ida– Elizabeth Greenberg, Randolph
Ugly– Ari Charm, Randolph
Cat– Natalie Crespolini, Randolph
Drake– Caitlin Ferrentino, Randolph
Bullfrog/ Henrietta– Madison Clemente, Flanders
Greylag– Benjamin Greenberg, Randolph
Dot– Mackenzie Fitzgerald, Randolph
Maureen– Ruby Turner
Turkey/ Mother Swan– Ava Blewitt, Budd Lake
Grace– Blair Benjamin, Randolph
Jay Bird– Henry Greenberg, Randolph
Penny/ Fluff- Rosie Bentley, Randolph
Billy/ Barnacles– Olivia Baccollo, Randolph
Downy/ Pinkfoot– Caroline Knox, Budd Lake
Beaky/ Snowy– Jill Matt, Succasunna
Purchase tickets online through Randolph's Community Pass system.  Prices are $20 for children under 12, seniors 62 and above and military personnel with ID.  All others are $25.
All seats are General Admission and there is no assigned seating.  For more information call the theater at (973) 989-7092.