THE WIZARD OF OZ (Royal Shakespeare Company version) Music and Lyrics by Harold Arden and E. V. Harburg Background Music by Herbert Stothart Dance and Vocal Arrangement by Peter Howard Adapted by John Kane for the Royal Shakespeare Company Directed by Mark Carovale. Brundage Park Playhouse gives this beloved tale by L. Frank Baum the royal treatment! Come celebrate the 75th Anniversary of the 1939 MGM film as you follow young Dorothy Gale and her faithful companion Toto on their magical, musical adventures in the Land of Oz. This timeless story, adapted by John Kane for the Royal Shakespeare Company, is definitely one that the whole family will enjoy. Performance Dates: February 7, 14 and 21 at 8:00 pm, February 8, 9, 15, 16, 22 and 23 at 2:00 pm
Brundage Park Playhouse on Carrell Road in Randolph, NJ is pleased to announce performances for our upcoming production of SEE HOW THEY RUN for our 2014 Season. Performance Dates: May 2, 3, 9, 10, 16 and 17 at 8:00 pm, May 4 and 18 at 2:00 pm See How They Run By Philip King Directed by Neil Fitzpatrick The Story: Set in the quaint English village of Merton-Cum-Middlewick, this hilarious play will have the audience in stitches the entire time. The vicar, his wife, their maid and other assorted and sometimes unsavory visitors combine in this zany, madcap romp that is English comedy at its best. Brundage Park Playhouse is delighted to present this old school treasure.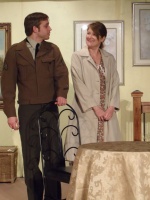 The enchanting tale of Toymaker Geppetto and his little wooden puppet is re-imagined in this Broadway Junior version based upon the classic Disney story. This new musical boasts favorite tunes from "When You Wish Upon a Star" and "I've Got No Strings", as well as brand new tunes by the Oscar and Grammy Award winner and master melodist, Stephen Schwartz.