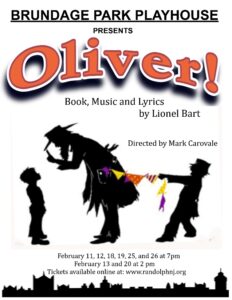 Oliver!
Book, Music and Lyrics by Lionel Bart
Directed by Mark Carovale
2022 Performance Dates:
February 11, 12, 18 19, 25, 26, at 7:00 pm
February 13 and 20 at 2:00 pm
Consider yourself at home with Lionel Bart's classic musical based on the Charles Dickens novel, Oliver Twist. The Tony and Olivier Award-winning show is one of the few musicals to win an Academy Award for Best Picture and is widely hailed as a true theatrical masterpiece by actors and audience members alike.
CAST:
Oliver Twist – Natalie Crespolini, Randolph
Fagin – Mark Carovale, Wharton
The Artful Dodger – Wyatt Berman, Long Valley
Nancy- Lanea Granitzki, Stanhope
Bet-Izzy Pedalino-Churchwell, Sparta
Mr. Bumble, Bill Sikes – Russell Crespolini Jr, Randolph
Mr. Brownlow-Paul Tracy, Andover
Mr. Sowerberry-John Cavaliere, Randolph
Mrs. Sowerberry-Jean Cavaliere, Randolph
Charlotte-Ruby Weston, Mendham
Mrs. Bedwin-Nola Young, Wharton
Widow Corney.-Robin Miller, Succasunna
Charlie Bates…Ari Charm…Randolph
Noah Claypool-Mark Hladyk
ENSEMBLE:
Rip Harris, Morristown
Rhys Harris, Morristown
Dawn Wargo, Flanders
Evelyn Ross, Morristown
Sabrina Urriola, Randolph
Tara Martone, Nutley
Isabelle Martone, Nutley
Kasandra Kudron, Flanders
Grace Salerno, Randolph
Gavin O'Donnell, Randolph
Connor Simon, Randolph
Violet Caruso, Long Valley
Corine Denizard, Randolph
Tom Young, Wharton
Mike Galvin, Morristown
Tickets can be purchased on Community Pass.  Prices are $20 for children under 12, seniors 62 and above and military personnel with ID.  All others are $25.
All seats are General Admission (no assigned seating).  Purchase tickets online through Randolph's Community Pass system.   Click here for more information regarding online ticket purchases. For more information call (973) 989-7092.  All patrons must be masked.