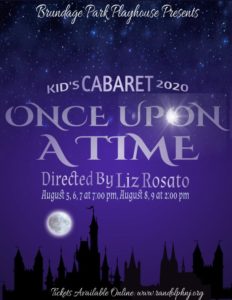 AUDITION NOTICE
KIDS CABARET 2020
ONCE UPON A TIME
Brundage Park Playhouse is pleased to announce online auditions for its upcoming production of KIDS CABARET: ONCE UPON A TIME. The production will feature songs and scenes from beloved Disney classics and Broadway hits.
Audition Information:
Age Range for auditions: 8 – 18 years old.
Due to Covid-19 restrictions, all auditions will be submitted online.   Auditioners should record 16-32 bars of a Broadway show tune or Disney song which best features their vocal skills. Video submissions should be no longer than two minutes in length. Songs can be sung A Capella, or with pre -recorded accompaniment tracks.   All auditions are due by Friday, May 29.
For detailed instructions on how to submit your audition materials please email your name, phone number and email address to BrundageParkPlayhouse@gmail.com or ebethrosato@gmail.com    
We will get back to you with information on how to submit your audition video.  If you would prefer to set up a session for an online audition via the chat platform of your choice please indicate that in the email to us.  Feel free to reach out for any further questions!   We look forward to hearing from you.  Virtual rehearsals will begin the week of June 8th through "Zoom".    A rehearsal schedule will be made once the show is cast.
Directed by Liz Rosato, Regina McElroy,  Michael Luciano
Performance Dates: To Be Determined and will be rescheduled to align with covid-19 related mandates.
For further information please contact Brundage Park Playhouse at (973) 989-7092