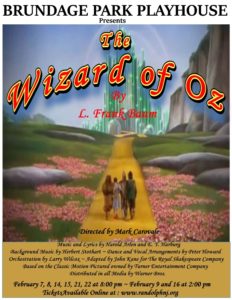 THE WIZARD OF OZ
By L. Frank Baum
Music & Lyrics by
Harold Arden & E. Y. Harburg
Background Music by Herbert Stothart
Dance & Vocal Arrangements
by Peter Howard
Adapted by John Kane
for the Royal Shakespeare Company
This production is based upon the Classical Motion Picture owned by Turner Entertainment Co. and distributed in all media by Warner Bros.

Directed by Mark Carovale
Performance Dates: February 7, 8, 14, 15, 21 and 22 at 8:00 pm, February 9 and 16 at 2:00 pm
Brundage Park Playhouse gives this beloved tale by L. Frank Baum the royal treatment!  Come follow young Dorothy Gale and her faithful companion Toto on their magical, musical adventures in the Land of Oz. This timeless story, adapted by John Kane for the Royal Shakespeare Company, is definitely one that the whole family will enjoy.
CAST:
DOROTHY GALE  – Lanea Granitzki  – Stanhope
AUNT EM  – Kaitlin Krumeich – Morristown
UNCLE HENRY/ Gatekeeper -Jay  Cavalier – Randolph
ZEKE/ FARMHAND  – Russell Dieterle – Dover
HICKORY/Tinman – Paul Flanagan – Chester
HUNK/Scarecrow – James Ciccarelle – Watchung
MISS ALMIRA GULTCH/ WICKED WITCH OF THE WEST –
Cheryl Sullivan – Oak Ridge
PROFESSOR CHESTER MARVEL/ WIZARD
Rene Dussault   – Randolph
GLINDA – Nola Young – Roxbury
LION – Mark Carovale – Wharton
MUNCHKINS:  MAYOR – Natalie Crespolini  – Randolph
CORONER – Kellan Wadleigh – Rockaway
BARRISTER – Wyatt Berman – Long Valley
LULLABY LEAGUE – Julia Jankiewicz
Saoirse Nielsen…Randolph
LOLLIPOP GUILD – Veronica Pope  – Randolph
ENSEMBLE
Mark Hiadyk – Mount Tabor
Hannah Marney – Long Valley
Melissa Hamfeldt – Succasunna
Saoise Nielsen – Randolph
Linda Ratner – Morristown
Julia Jankiewicz – Randolph
Angelina Kornacki – Burke
Ticket Prices:  All tickets are $20 for children under 12 and seniors 60 and above.  All others are $25.
Patrons can now purchase Brundage Park Playhouse production tickets online through Randolph's Community Pass system.   Click here for more information regarding online ticket purchases.