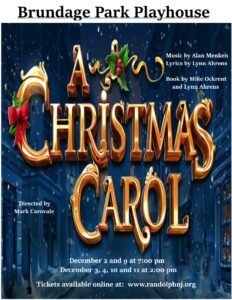 A CHRISTMAS CAROL
Music by Alan Menken
Lyrics by Lynn Ahrens
Book by Mike Ockrent &
Lynn Ahrens

Directed by Mark Carovale
Music Director: Micael Sherman
Choreographer: Jackie Lenox
Sets/Props: Nola Young
Performance Dates:
December 2 and 9 at 7pm
December 3, 4, 10 and 11 at 2pm
Ebenezer Scrooge is a prosperous curmudgeon who believes that personal wealth is far more valuable than the happiness and comfort of others. With an infuriated "Bah Humbug!", Scrooge summates his feelings of Christmas tidings and charitable giving, but he's forced to face his selfish ways when three ghosts on Christmas Eve lead him through his Past, Present and Future. Thanks to their guidance, Scrooge recognizes his faults and greets Christmas morning with a cheerful "Happy Christmas" before spending the day reconnecting and sharing love with those that mean the most to him.
Cast:
Ebenezer Scrooge – Mark Carovale, Wharton
Bob Cratchit – Rip Harris, Morristown
Mrs. Cratchit/Charity Woman – Nola Young, Wharton
Tiny Tim – Calum Lavery, Randolph
Fred Anderson – Kermit Walder, Newfoundland
Ghost of Christmas present/Sandwich Board Man –
Mike Galvin, Morristown
Ghost of Christmas Past/Charity Woman/Lamplighter –
Dawn Warga  Flanders
Ghost of Christmas Future/Blind Old Hag – Ruby Weston, Mendham
Jacob Marley's Ghost – Mark Donnelly, Stanhope
Emily – Sonia Meli, Morristown
Mr. Fezziwig – Kermit Walder
Mrs. Fezziwig – Cheryl Sullivan, Oak Ridge
Young Scrooge/Jonathan – Gavin O'Donnell
Young Scrooge as a teenager – Justice Vera, Mt. Olive
Young Marley – Lincoln Vera, Mt. Olive
A Beadle/Judge – Tom Young, Wharton
Mr. Smyth/ Fishmonger/ Mr. Hawkins – Mark Hladyk, Parsippany
Grace Smythe – Olivia Baccollo, Mendham
Old Joe – Nate Kuhns Pocono, Summit
Martha Cratchit – Bridget O'Donnell, Randolph
Belinda Cratchit – Trinity DeVito,  Randolph
Poulter – Nate Kuhns
Mrs. Mops – Sonia Meli
Scrooge's Father – Rhys Harris Morristown
Scrooge's Mother – Tess Carvelli, Morristown
Fan at 10 – Chelsea Backer, Flanders
Sally Anderson/Charity Woman – Jocelyn Bates, Morristown
Granny – Robin Miller
Veronica Struck, Morristown
Stella Coyle, Morristown
Prices are $20 for children under 12, seniors 62 and above and military personnel with ID.  All others are $25.  All seats are General Admission (no assigned seating).
Purchase tickets online through Randolph's Community Pass system.

For more information visit www.brundageparkplayhouse.org or call the theater at (973) 989-7092.