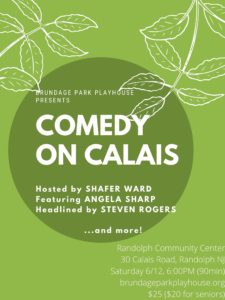 This event has been cancelled.  Refunds will be provided to ticket holders.
COMEDY ON CALAIS
Hosted by Shafer Ward

Saturday, June 12 at 6:00 pm
The production will take place at the Randolph Community Center on 30 Calais Road in the all purpose room.
Host Shafer Ward and other side splitting comedy performers deliver some much needed humor and laughter.  You can't help but put on a happy face!
Please note:  Adult material, no children under 16 will be admitted
Tickets $20 for Seniors 62 and over, Military Personnel with I.D. all others $25.  Tickets may be obtained from Randolph Community Pass or by calling the theater at 973-989-7092.