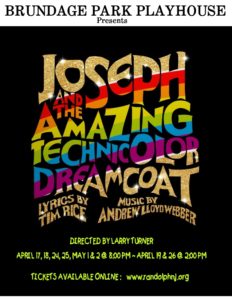 JOSEPH AND THE AMAZING TECHNICOLOR DREAMCOAT
Please note that all performances of Joseph have been cancelled.  For ticket refund information please call the box office at 973-989-7092.
Lyrics by Tim Rice
Music by Andrew Lloyd Webber
Directed by Larry Turner
Sha la la Joseph you're doing fine! You and your dreamcoat ahead of your time! One of the most enduring shows of all time, Joseph and the Amazing Technicolor Dreamcoat is a reimagining of the Biblical story of Joseph, his father Jacob, eleven brothers and the coat of many colors. 
Ticket Prices:  All tickets are $20 for children under 12 and seniors 60 and above.     All others are $25.
Patrons can now purchase Brundage Park Playhouse production tickets online through Randolph's Community Pass system.   Click here for more information regarding online ticket purchases.