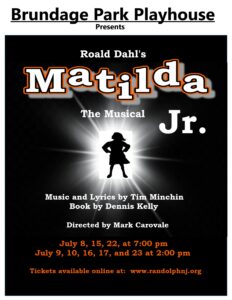 ROALD DAHL'S
MATILDA THE MUSICAL JR.
Music & Lyrics by Tim Minchin
Book by Dennis Kelly
Directed by Mark Carovale
Music Director – Nola Young
Performance Dates:
July 8, 15, 22 at 7pm
July 9, 10, 16, 17, 23 at 2pm
Brundage Park Playhouse is proud to announce its upcoming performances of Matilda the Musical Jr. at the playhouse on Carrell Road in Randolph.
Rebellion is nigh in Matilda JR., a gleefully witty ode to the anarchy of childhood and the power of imagination! This story of a girl who dreams of a better life and the children she inspires will have audiences rooting for the "revolting children" who are out to teach the grown-ups a lesson.   Children and adults alike will be thrilled and delighted by the story of the special little girl with an extraordinary imagination.
CAST:
Matilda – Lindsay Portland, Mendham
Agatha Trunchbull – Ruby Weston, Mendham
Miss Honey – Sonia Meli, Morristown
Mrs. Wormwood – Pooja Das, Randolph
Mr. Wormwood – Ryan Williams, Hackettstown
Bruce// Michael – Gavin O'Donnell
Escapologist/Dad/Rudolpho/ Sergei/ Student –
Wyatt Berman, Long Valley
Acrobat/mom/Student – Rose Carcich, Morristown
Mrs. Phelps/Mom/Student – Veronica Struck, Morristown
Lavender – Isabelle Martone, Nutley
Tommy – Bridget O'Donnell,
Amanda – Nicolette Magnelli, Mendham
Alice – Olivia Baccollo, Mendham
Hortensia – Chelsea Backer
Prices are $20 for children under 12, seniors 62 and above and military personnel with ID.  All others are $25.
All seats are General Admission (no assigned seating).  Purchase tickets online through Randolph's Community Pass system.
Click here for more information regarding online ticket purchases. For more information call (973) 989-7092.